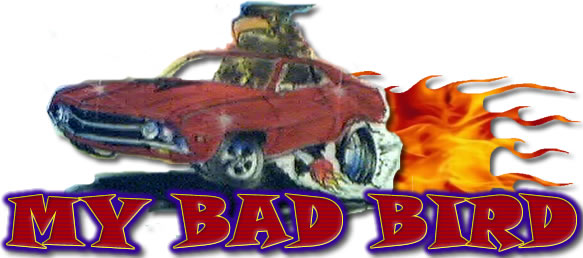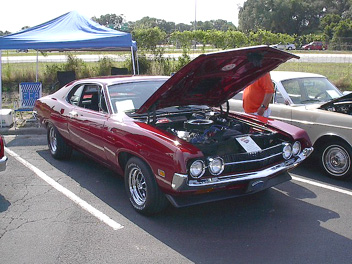 This my My Bad Bird a 1970 1/2 Ford Falcon
The car has a Rebuilt Stock Ford 460 4v v8
Holley Street Avenger 670cfm 4-barrel Carb,
Edelbrock Performer Intake
March Aluminum Pulleys
Mallory Distributor and Hyfire Ignition
Flowmaster Series 40 Exhaust System
C-6 Transmission
9" rear-end with 3.89:1 gear
Cragar Keystone Klassic Chrome Rims.
From Falcon Registry ( http://www.falconregistry.com ) about 1970 1/2 Falcon : An interesting event occured as the Falcon line was coming to an end. Production terminated entirely on January 1, 1970. For a brief time thereafter, the "1970 1/2" Falcon was offered. The 4-door and Station Wagon were re-badged Fairlanes, with Falcon specific chrome, but the 2-door was unique to the Falcon line. The Torino and Fairlane lineup had 2-door vehicles, but they were fastbacks and hardtops. The Falcon was the only one offered with a 2-door sedan (it has a b-pillar behind the driver door glass). The Falcon line did not offer fastbacks or hardtops. Interestingly enough, this '70 1/2 Falcon had seven engine choices up to an awesome 370 hp 429 cu in Cobra Jet Ram-Air V-8. The '70 1/2 Falcon was a stop gap measure to hold the market until the Maverick was ready for production. Thus ended the Falcon line.